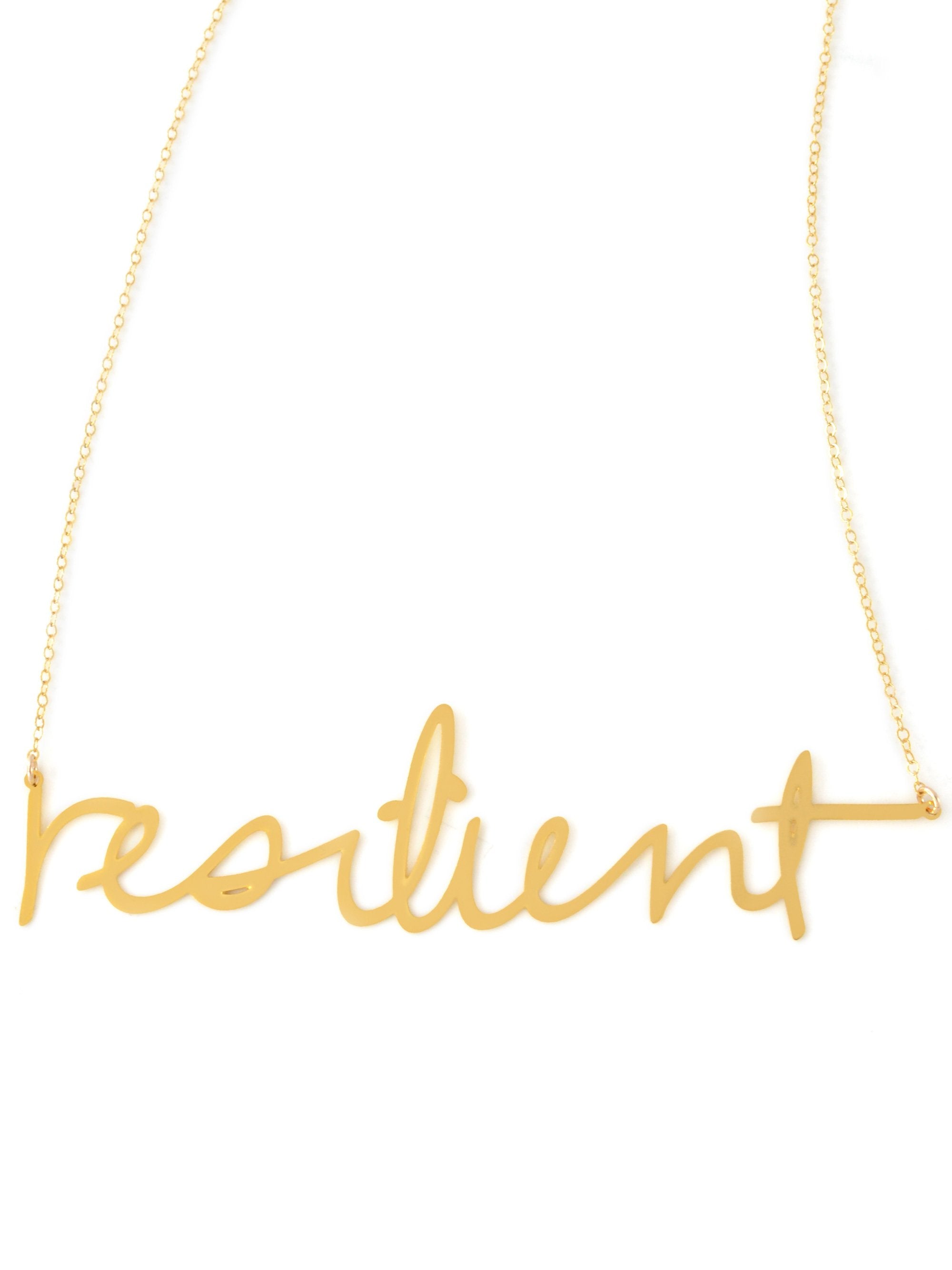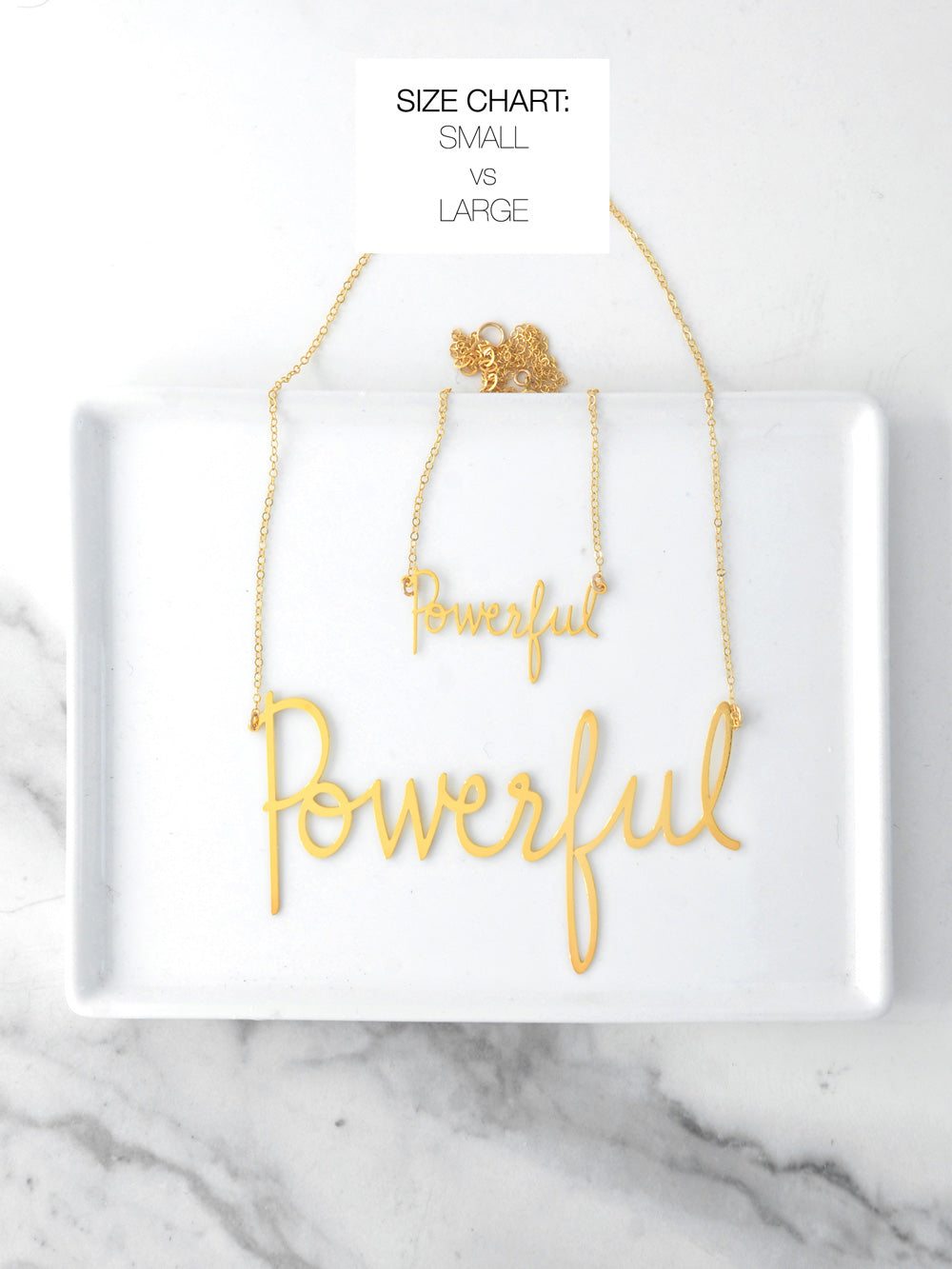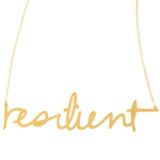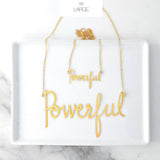 Resilient Empowerment Necklace
Say it without speaking.
Here's to strong women. May we know them. May we be them. May we raise them." - Unknown.
Brevity creates fine jewelry that empowers women. Set your intention, lean into your strength and broadcast it to the world.
LOOK GOOD, DO GOOD. 10% of each necklace sold is donated to Girls, Inc, an organization that advocates to improve girls' opportunities to succeed and lead healthy, independent, and educated lives.
PENDANT SIZE:
small: 1.7"w x .4"h
large: 4.6"w x 1.1"h
STANDARD CHAIN LENGTH: 16"
Resilient Empowerment Necklace
Free shipping for US orders over $150 and international orders over $325.
30 day returns or exchanges.
No worry guarantee with our two-year warranty.
100% secure payment and delivery.
Made with love.
Brevity is committed to quality and craftsmanship. I use non-tarnishing stainless steel as a base for sturdiness and durability, in order to create designs that look delicate, but that stand up to every day use. Whether in stainless steel, gold dipped or 14k solid gold, you can trust that you are buying jewelry that will become your new favorite every day wear.
Made in the USA.
Brevity is committed to supporting local workers and economies by producing all of our jewelry here in the USA (with the exception of the VOTE pin). While this might mean a higher cost of goods for Brevity, I believe in supporting local suppliers and vendors that ensure safe and fair working conditions, and the highest quality products.
Shipping

Fast shipping

Non-custom orders typically ship in 3-5 business days, via the shipping method selected.

Custom orders are made with love and have a longer lead time, but they are worth the wait!  Please allow 6-8 weeks for the production of custom orders. For your convenience, an estimated ship date is provided at the top of each custom product page.

Rush Orders

A rush option is available for an additional fee. At the latest, rush orders will ship 15 business days after the proof has been approved, but we can often accommodate even shorter leadtimes. Just get in touch!

If we aren't able to get your order to you in the time frame that you desire, we can provide you with a printable gift card that features your custom design which you can give to your loved one until the real deal arrives. See a sample gift card here.

International Duty Fees

International ship times vary depending on customs procedures. Packages may be subject to import tax upon arrival, for which Brevity is not responsible. While UPS packages are more easily tracked than USPS, UPS import taxes tend to be significantly higher than USPS, so please select your shipping accordingly. We are unfortunately unable to provide an estimate of the import tax.
FAQ

What materials do you use?

stainless steel: stainless steel pendant, sterling silver chain. We use stainless steel because it does not rust or tarnish, and for its strength, so that our designs can be both delicate and strong.  

sterling silver: sterling silver pendant and chain

gold dipped: gold dipped pendant, gold-filled chain

14k gold: 14k gold pendant and chain

Where is your jewelry made?

With the exception of the enamel VOTE pin, all Brevity Jewelry is produced and assembled within the United States. Though it is more costly to produce goods in the USA, I believe in supporting local economies and workforces.

Brevity is a woman-owned, small business located in Brooklyn, NY. Thank you for supporting a small business! Every order is appreciated.

What is your return/exchange policy?

Non-personalized items (excluding 14k finishes) are eligible to be refunded or exchanged when returned in their original condition within 30 days from the order date. Please get in touch to initiate a return or exchange. Once we have received the returned items, we will promptly issue a refund to the payment method used for purchase, less the shipping costs.

Personalized items cannot be returned or exchanged. Custom orders cancelled prior to the receipt of the proof will be refunded 75% of the order total. Orders cancelled after the proof has been submitted but prior to manufacturing will be refunded 50% of the order total. We are unable to refund orders that have been submitted for manufacturing.

All 14k jewelry is made to order, and as such is non-refundable and is exempt from being returned. Please see here for additional Returns & Warranty policies. 

How can I best care for my Brevity Jewelry?

When not wearing your jewelry, store it in a sealed bag (a pouch or plastic polybag is fine). With the exception of 14k jewelry, we recommend removing your jewelry while swimming, showering or otherwise exposing it to chemicals.

14k metals and stainless steel can accumulate dirt or fingerprints - we recommend cleaning them with a gentle dish soap and warm water.

Sterling silver pieces can oxidize over time when not worn, so store them in a sealed bag when not in use. You can clean sterling silver with a non-abrasive jewelry polishing cloth or silver jewelry cleaner.

Gold plated jewelry can be wiped clean with a soft cloth (I use the cloth that comes with my eye glasses). Deeper cleaning can be done with gentle dish soap and warm water. Avoid jewelry cleaners, antibacterial soaps, and polishing cloths, as they can affect the plating.
Disappointing
For a necklace over $100 I was expecting a much better chain. The chain on this necklace is very cheap and barely clasps in the back as the ring is large compared to the hook. Was disappointed with the amount paid but love the words I chose.
A Bold Statement With Elegance
I purchased the larger size and it is a real WOW factor. The quality is very good. Since it's gold-plated and new, I can't say if it will ever tarnish or not like some GP jewelry does. I hope not. The chain is a little tiny and delicate. I purchased a magnetic clasp for it which makes it easier to put on and off.
The necklace is for my sister in law who is a breast cancer survivor and now is battling cancer. She is "Resilent"!
I love my necklaces
I really love the pieces I ordered. They say so much without saying a word. I like to wear them especially when I'm visiting schools to encourage and uplift.